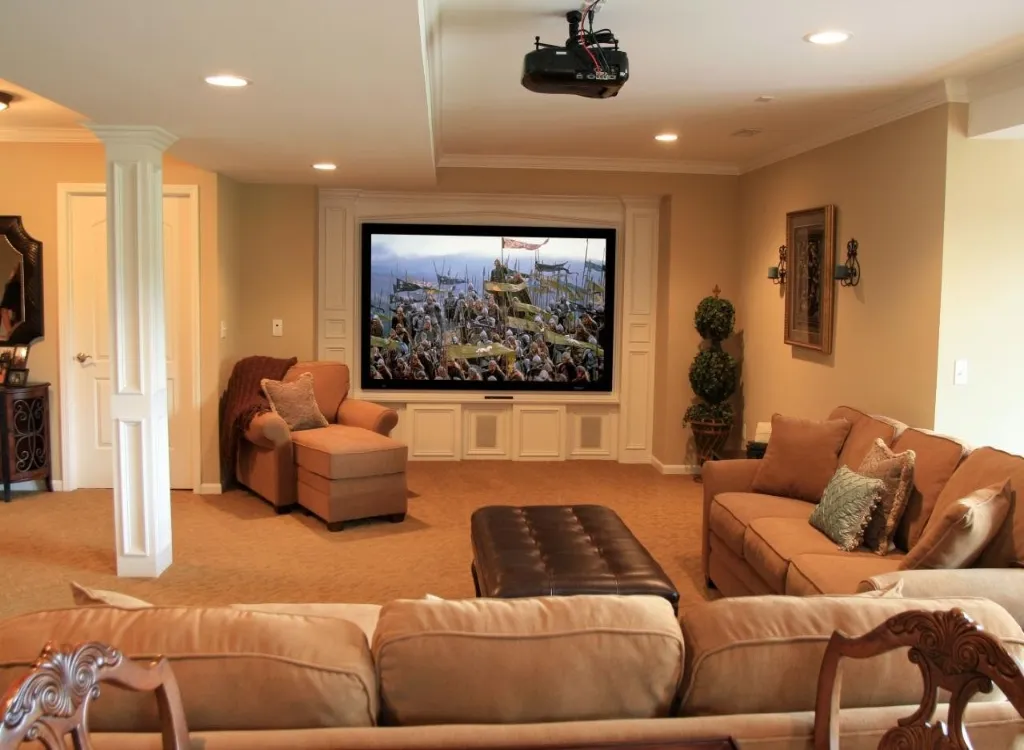 As a homeowner, you always look for the latest and greatest trends to enhance your home. Well, look no further! We've compiled a list of the top 10 basement design trends for 2022.
Whether you're looking to create a new living space with a professional basement design tool or simply update your current basement space setup, these trends will help inspire you. So read on and get inspired!
1. Open Floor Plan Concept
The open floor plan concept is one of the most popular basement design trends of the past few years. It breaks down walls in a room to allow for a more open area. This design allows for more natural light and improved traffic flow throughout the space.
Benefits Of An Open Floor Plan Concept
One of the main benefits of an open floor plan is that it can make a small basement feel larger. Eliminating walls and doorways opens up the space and allows more natural light to flow through. Removing barriers can be a great way to improve your basement design's overall look and feel.
An open floor plan can also make entertaining guests or hosting parties easier. When everyone is gathered in one ample space, it's easier to socialize and have fun.
Another benefit of this design is that it can help improve traffic flow. With no walls or partitions to block the way, people can move around more easily from one area to another. This design can be helpful if you have a lot of people over for parties or events. It can also be beneficial if you have young children who need to be able to move around freely without having to worry about running into furniture or walls.
An open concept style can help your basement feel larger if it's on the smaller side.
Things To Consider When Planning Your Open Floor Plan Concept
While there are many benefits to an open floor plan, there are also a few things you'll need to consider before making any final decisions.
For example, you'll need to think about how much natural light your basement gets. If your own layout doesn't get a lot of light, you may want to reconsider implementing an open floor plan. Without enough light, your finished basement could feel dark and cramped.
You'll also need to consider acoustics when planning your open floor plan concept. Since there are no walls or partitions, sounds will travel easily throughout the space. If you have a TV or stereo system in your basement, you may want to consider investing in soundproofing materials so you don't disturb the peace of anyone who happens to be upstairs. 
Finally, you'll need to decide what kind of furniture and fixtures you want in your open-plan concept basement. Since there are no irregular wall shapes or partitions, all your furniture and fixtures will be fully displayed. You'll need to select pieces that fit well together carefully and that won't make your space feel cluttered. 
2. Integrating With Your Whole Home Design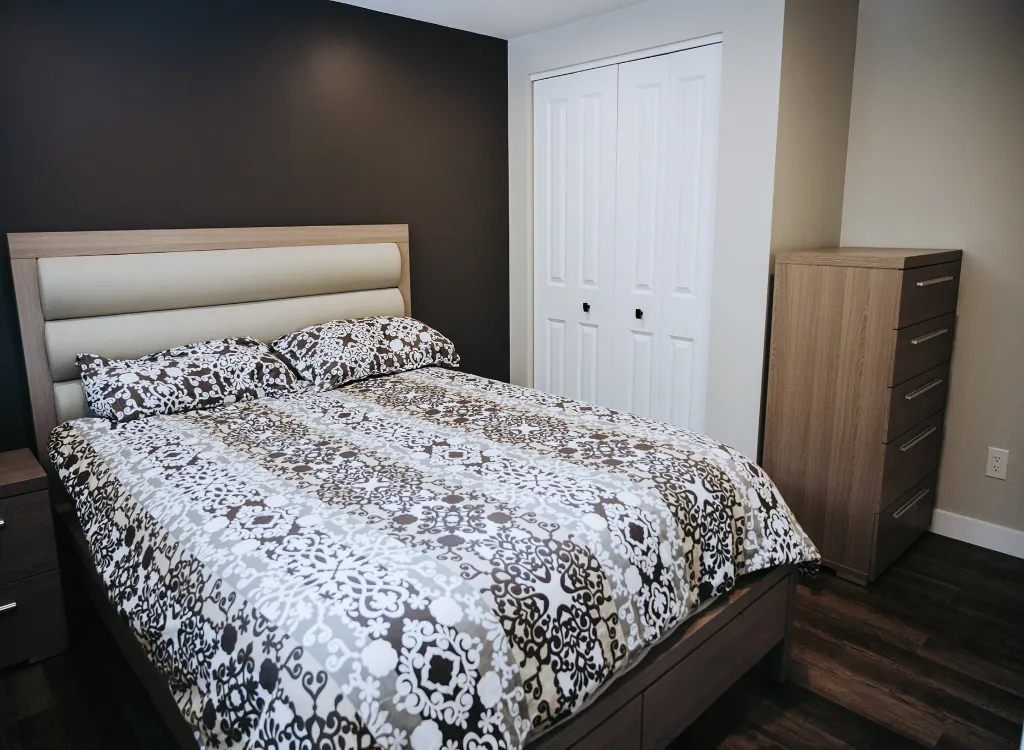 Start with a blank canvas. When it comes to basement design, the sky's the limit. But before adding furniture and decor, take a step back and imagine what you want the space to look and feel like. Do you want it to be cozy and intimate or bright and airy? Do you want it to have a sleek and modern aesthetic or a rustic and industrial vibe? Once you have a vision for the space in mind, you'll be better able to choose furnishings and finishes that reflect that vision.
Consider your furniture needs. When selecting furniture for your basement, remember how you plan to use the space. If you're planning on using it as a home office, you'll need a desk, chair, and plenty of storage for files and office supplies. If you're hoping to turn it into a game room or entertainment space, comfortable seating and television is essential. If you want it to be a basement bedroom or a relaxing retreat, opt for plush sleeper sofas and chairs that invite lounging.
Add some personality with accessories. Accessorizing is critical for giving your basement design personality and style. Hang some art on the walls, add some greenery with plants or flowers, toss some colourful pillows on the sofa—whatever you do, make sure the space feels like yours. These personal touches will make all the difference in making your basement feel like an extension of your home.
3. Pale And Light Colours To Brighten Up The Space
Pale colours such as white, ivory, and cream are popular for basements. These colours make the space more open and airy, perfect for small basement rooms. In addition to pale colours, light colours such as pale blue, pale green, and light pink are also trending for 2022.
There are several reasons why pale and light colours are so popular right now. Firstly, they help to reflect light, making the space appear brighter and more extensive. They also have a calming effect, which is perfect for basements that are used as relaxation areas or home offices. Lastly, they provide a blank canvas that you can accessorize with pops of colour to create a unique look that reflects your style. 
If you're including a bathroom in your basement design, be sure to check out these colour schemes that bathroom designers love.
4. Multi-Purpose Basement Design For Home Offices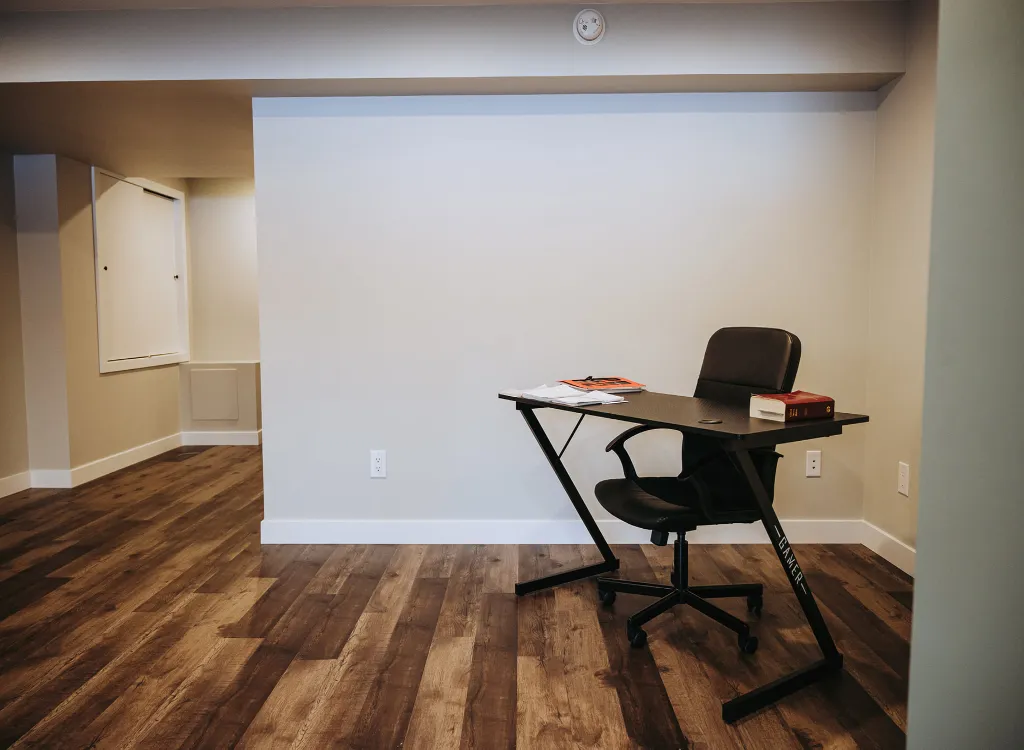 There are several things to consider when planning a multi-purpose basement design.
The first is square footage. How much space do you have to work with? Once you have an idea of the dimensions, you can start planning the layout of your basement office.
Will you need one ample open space for seating and working? Or would you prefer smaller, more intimate nooks for different purposes? Perhaps you'll want a mix of both! It's essential to think about how you'll use the space to make the most of it.
The next thing to consider is storage. An office inevitably comes with lots of paperwork, files, and supplies. You'll need somewhere to store all of this so it's out of sight but still within reach when needed. Custom storage solutions are a great way to make the most of your space and keep your office organized.
Don't forget about the finishing touches! Just because it's a basement doesn't mean it can't be stylish and inviting. The proper lighting, paint colours, and furniture can transform any finished basement space into a cozy and inviting one. 
5. Walkout Design
A walkout basement design includes one or more walls built partially or entirely above ground level, allowing for natural light and direct access to the outdoors. It usually has a standard door or sliding doors that also lead to the outside.
One of the most significant advantages of a walkout basement design is the increased natural light. Traditional basements are often dark and dreary due to the lack of windows. However, because walkout basements have at least one wall built partially or entirely above ground level, they allow for an influx of natural light. Light can make your basement feel brighter and more inviting.
Another benefit of a walkout basement design is that it can increase the value of your home. If you ever decide to sell, potential buyers will be impressed by your basement's private entrance. This added feature will likely make your home more appealing than comparable homes on the market that don't have a walkout basement.
You can have it lead out to a patio or outdoor living space to add an even more usable area.
6. Bold Staircase Design
A statement carpet runner is a great way to add some boldness to your space, whether you have a traditional straight staircase or a more modern spiral staircase. Not only will it add colour and pattern, but it will also help protect your stairs from wear and tear. When choosing a carpet runner, select one that is durable and stain-resistant. You'll also want to ensure it is appropriately secured, so it doesn't pose a tripping hazard.
Lighting is another excellent way to add some boldness to your staircase design. Hanging pendant lights or sconces on either side of the stairs can create a dramatic look. Or, for a more subtle approach, try installing under-stair lighting for a soft and inviting glow. Either way, be sure to use energy-efficient bulbs to save on your electric bill each month.
7. Full Sports Lounge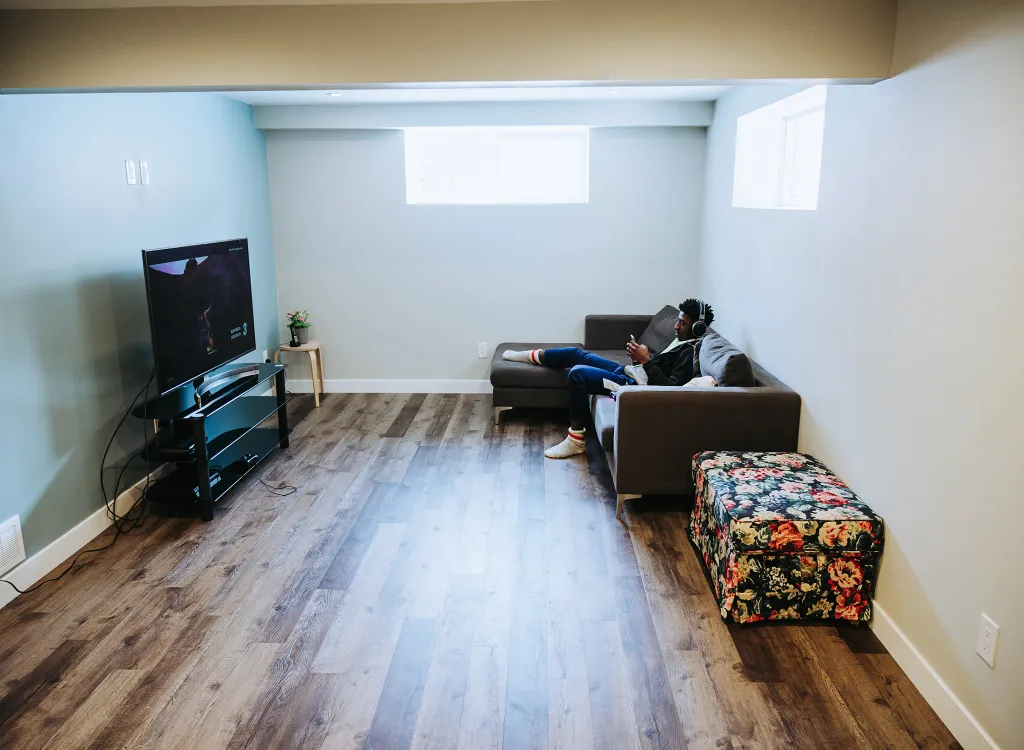 There are a few basic features that are essential for creating the perfect sports lounge in your basement:
A large television for watching the big game. If you're a diehard fan, you may even want to install multiple TVs so you can catch every game that's on
Comfortable seating, like recliners or large sofas, so you can relax and enjoy the game
A fully stocked bar. A bar is a perfect spot to keep your beer fridge and stock up on snacks for game day
A pool table if you have the extra space
8. All-Natural Wood Elements
All-natural wood elements can be used for many things, from flooring and walls to ceilings and beams. They help give basements a more natural look and feel and make them warmer and more inviting. Here are a few ways you can use wood to finish your basement remodel:
Wainscoting: wainscoting is wood paneling that goes along the bottom half of a wall. It's a popular basement design trend because it's water-resistant and easy to clean. You can choose from various styles to create a unique look for your basement.
Plywood Flooring: plywood is an excellent material for basement flooring because it is water-resistant and durable. You can paint or stain plywood to create the perfect look for your finished basement.
Exposed Beams: exposed beams are aesthetically pleasing, and they provide support for your basement ceiling. Beams can be made of natural or imitation wood. Either way, they'll add character to your space.
Don't forget about wooden furniture and accents too!
9. Sleek Recessed Lighting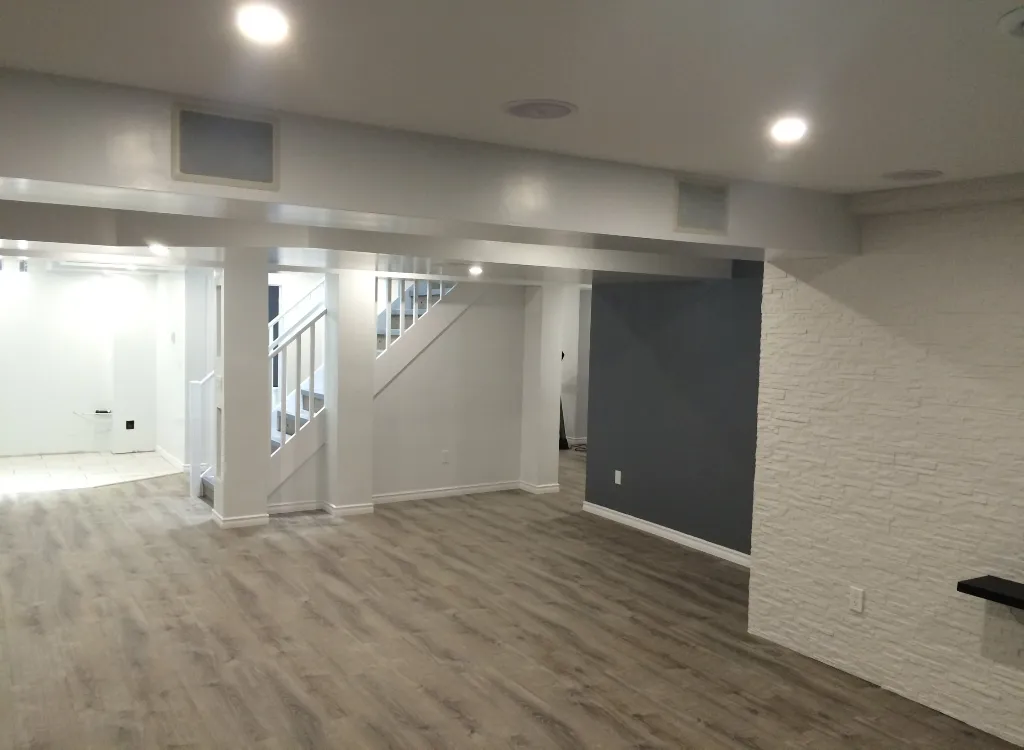 Recessed lighting, also known as can lights, is a type of lighting fixture that's installed into the ceiling. The fixture is flush with the ceiling, giving the illusion of more space and a more modern look.
There are several reasons why recessed lighting is becoming a popular choice for finished basement designs. First, it's a great way to save space. If your basement is on the smaller side, recessed lighting can help make it feel more open and airy. Additionally, recessed lighting provides more focused and directed light than other light fixtures. Recessed lighting makes it ideal for basements used as home offices or playrooms since you'll be able to see what you're doing better. 
10. Full Home Gym
More and more people are working out at home, and there are several reasons why. It's more convenient than going to a gym, you don't have to waste time driving there and back, and you can work out whenever it's convenient. Second, it's usually cheaper than a gym membership. Once you've invested in some basic equipment, your only ongoing costs will be for things like power and maintenance. You also don't have to worry about germs or crowds. With a home gym, you can work out in peace without worrying about who (or what) you might come into contact with.
If you're thinking about adding a home gym to your basement renovation project, there are a few things you'll need to consider. You'll need to ensure that your finished basement has energy efficiency features such as proper insulation and good ventilation. Otherwise, your gym will be too hot in the summer and too cold in the winter.
You'll need to choose the right type of flooring. A mat is usually sufficient for most types of exercise, but if you're planning on doing a lot of weightlifting, you may want to consider investing in a rubber basement floor.
Get The Room You Need Using Valdek Construction's Basement Remodeling Service
So, what's next? The best way to stay ahead of the trends is to plan. We have a team of experts who can help you choose the right style and materials that will be on trend in 2022.
That's why we encourage you to fill out our contact form today and let us help guide you through the design process for your newly finished basement.