Make your basement a place where you and your family can relax, have fun, get fit, and entertain friends
Improving homeowners' lives and their spaces since 2014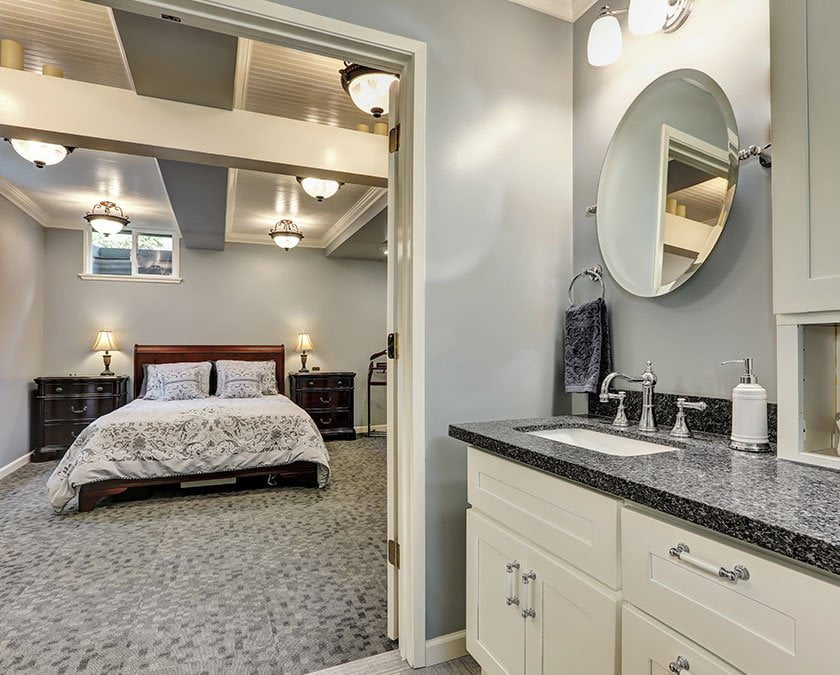 Add Value To Your Home And Create A Space To Suit Your Needs
The high cost of living in a city makes having a finished basement invaluable. With today's work-from-home requirements, people spend more time at home than ever before. Being stuck inside all day can get lonely and boring, but with a finished basement, you'll have that extra space to host family and friends without fear of overcrowding your home.
Bring your family closer together by creating an additional bedroom for your parents or in-laws to stay in when they visit. Make the most out of your square footage and transform that cold, damp space under your home into something beautiful and practical that everyone can enjoy.
Some of the most common upgrades and features homeowners like you are adding to their basements include:
Make Your Basement The Most Enjoyable Room In Your Home
When most of us think of basements, we picture a dusty, cluttered room underneath the house. But if you were to see the real potential behind your empty basement, you would get it remodeled straight away.
Having a basement dedicated to entertainment allows you to invite your friends over and enjoy a good time without any worries of disrupting the rest of your home or invading your personal space. Your new basement can also be a place for your kids to enjoy their free-time in, while being safe at home.
Unleash your creativity and transform your basement into a room that is fun for everyone. Make your home a magnet of laughter and a space where precious memories are made.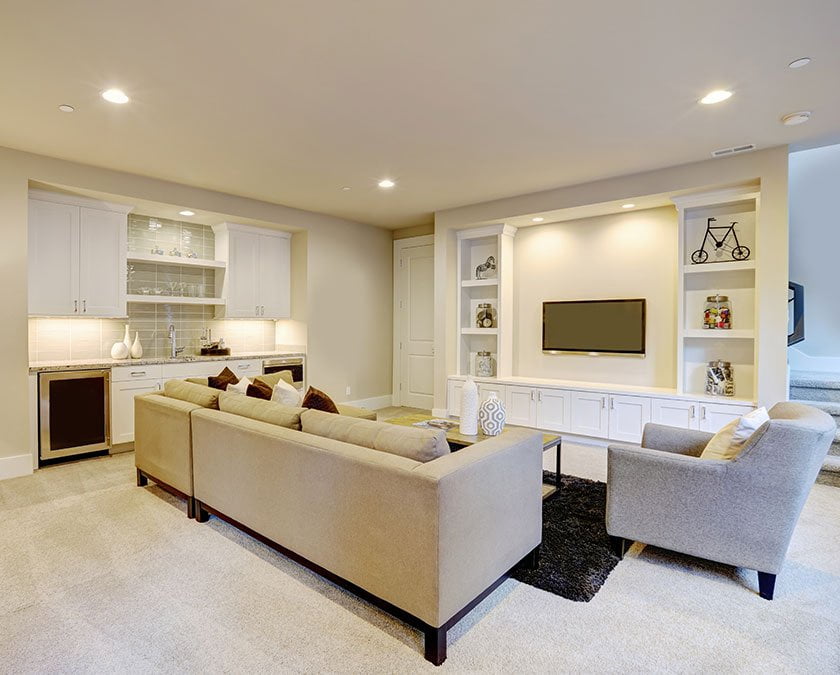 Enjoy Every Last Inch Of Your Home With A Finished Basement In 3 Easy Steps
We want you to love living in your space. That's why constructing a design that you connect with begins with our ability to really get to know you and what you want to achieve for your home. Transparency and open communication are at the heart of what we do.

Fill out our form and send us pictures of your current home and what you want it to look like. We'll have a phone consultation to talk more about your project, then schedule an on-site consultation.

During the on-site consultation we discuss your project in-depth and start designing the perfect space for you. After we talk about expectations and deadlines, we finalize your design and get to work.

Your amazing basement is now complete. Join us in a final inspection and let us know if there's anything that needs some final touches. As soon as we are out your door, make sure you celebrate your new basement.
Basement Remodeling Prices
No matter how big or small your home is, our goal is to transform your house into exactly what you want. Consult our prices below to get an idea of how they align with your project goals. If you think we're a good fit, contact us to book your consultation and we'll get you a full project estimate.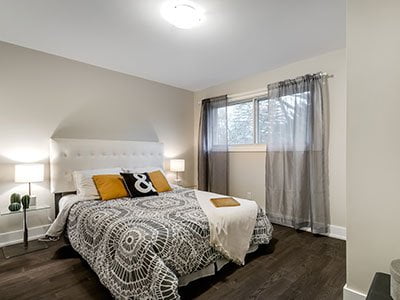 Includes new insulation, electrical, flooring, ceiling, paint, trim work, doors, stairs and railings, and reconfiguring the layout for a medium-sized 1000 sq ft basement.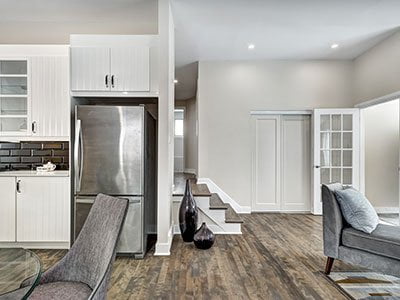 Average Basement Remodel*
Includes new spray foam insulation, insulated subfloor, full bathroom, flooring, ceiling, electrical, plumbing, trim work, doors, stairs and railings, and reconfiguring the layout for a medium-sized 1000 sq ft basement.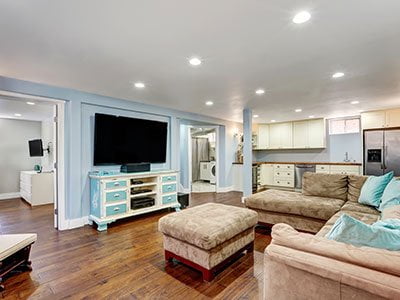 High-End Basement Remodel*
Includes new spray foam insulation, insulated subfloor, custom bathroom, custom bar or entertainment feature, flooring, ceiling, electrical, plumbing, trim work, doors, stairs and railings, and reconfiguring the layout for a larger basement.
*Prices are averages and may change depending on the size of your basement remodel and your choice of materials and finishes. You'll receive an exact quote for your unique home addition and renovation project after the on-site design consultation.
Here's What Homeowners Like You Say
Your comfort and needs are the first priority of Valdek Construction. Take a look at what our previous clients say about us and how they experienced working with our team.
I highly recommend Valdek Construction! We have had work done to our home several times with valdek construction from small to big jobs including an entire bathroom, kitchen updates, adding new walls and more!
Valdek construction is thorough in their work, does not rush, makes sure everything is perfect , easy to reach, dependable and affordable .
I would recommend them for any job in your home ! You can't go wrong .
We have worked with Valdek Construction for a few years now and they have completed several projects in our home including the renovation of our basement, bedrooms and bathrooms that required new electrical, lights, plumbing, painting, construction of walls, drywall, install of shower, sink, toilet and flooring.
The team of people we've gotten to know are fantastic and professional from start to finish! The estimates provided were accurate, thorough and fair. The work that was done was of high quality.
We had steady and great communication throughout the entire process of each job. Matt and his team are open to feedback, suggestions and questions along the way. The finished product was what we were looking for and more with solid & trusted advice from them.
We will definitely call on them again for any projects in the future!
Working with Matt at Valdek was a really great experience. In 2018, he fully gutted and then renovated our drab, dank basement from the studs up, and even built a brand new bathroom where there wasn't one before.
He stuck to his timelines, and his team was always prompt and professional.
His fee was incredibly fair, and his workmanship was outstanding. We intend to use Matt again in the very near future for a main floor overhaul. Highly recommend.
Turn Your Unfinished Basement Into A Destination Where Everyone Loves Spending Their Free Time