Upgrade your bathroom and create the perfect atmosphere for you to relax in and enjoy anytime
Improving homeowners' lives and their spaces since 2014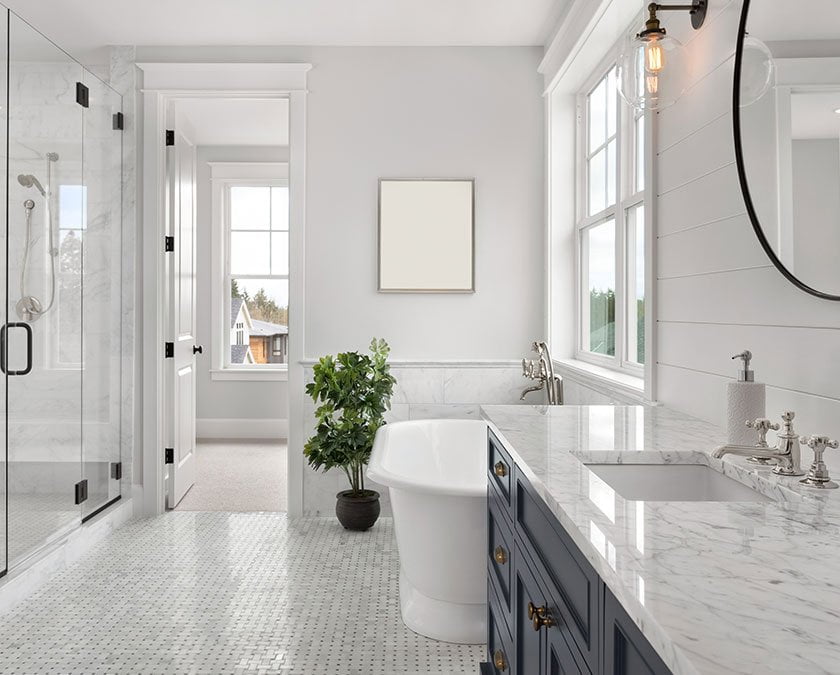 A Bathroom To Suit Your Lifestyle
A new bathroom is a great investment towards your general well-being. It's where you prepare yourself for the day and get the energy you need before you go to work. It's also the place you look forward to relaxing in after a long and stressful day.
Make your bathroom safer and more comfortable with a spacious layout and an improved waterproofing system. No more bumping your elbows in your tiny shower and forget about that leaky toilet and those outdated vanities. 
Enjoy a bathroom tailored for your needs and comfort with a remodel. Have all the new easy-to-use features, and beautify your space with new trending colors and textures.
Some of the most common upgrades and features homeowners like you are adding to their bathroom include:
Luxury, Functionality, And Style
There's no limit when designing your bathroom. No matter  the size, with the right features, colors, and materials you can create a truly amazing space just for yourself. Treat yourself to an in-home spa to give you a luxurious feeling in your own home.
Make sure your bathroom not only looks good but is also perfect for your daily routine. Get a walk-in rain shower, a free standing tub, large mirrors, or whatever you need to enrich your everyday life and make it easier.
Your happiness comes first and you deserve to have a personal retreat that you can be comfortable in. Take a moment to enjoy a self care routine in your new, amazing bathroom, and escape all the noise to destress – you won't regret it.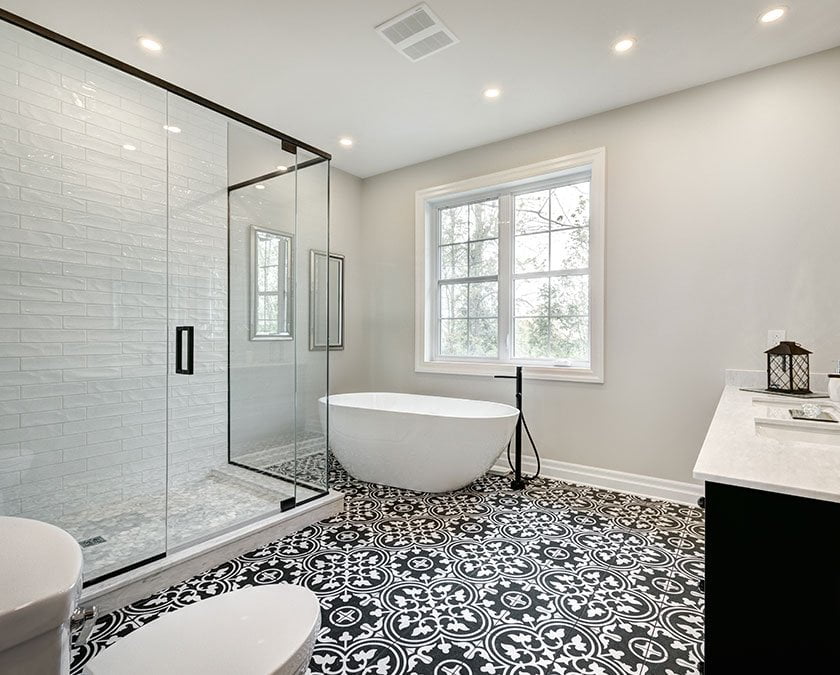 Elevate Your Personal Time With A Beautiful, New Bathroom In 3 Easy Steps
We want you to love living in your space. That's why constructing a design that you connect with begins with our ability to really get to know you and what you want to achieve for your home. Transparency and open communication are at the heart of what we do.

Fill out our form and send us pictures of your current bathroom and what you want it to look like. We'll have a phone consultation to talk more about your project, then schedule an on-site consultation.

During the on-site consultation we discuss your project in-depth and start designing the perfect space for you. After we talk about expectations and deadlines, we finalize your design and get to work.

Your amazing bathroom is now complete. Join us in a final inspection and let us know if there's anything that needs some final touches. As soon as we are out your door, make sure you celebrate your new bathroom.
Bathroom Remodeling Prices
No matter how big or small your home is, our goal is to transform your house into exactly what you want. Consult our prices below to get an idea of how they align with your project goals. If you think we're a good fit, contact us to book your consultation and we'll get you a full project estimate.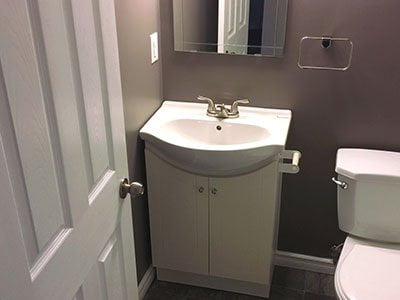 Includes a new bathtub or shower, new stock vanity, surrounding work for your bathtub, updating fixtures, and new paint for a guest bathroom.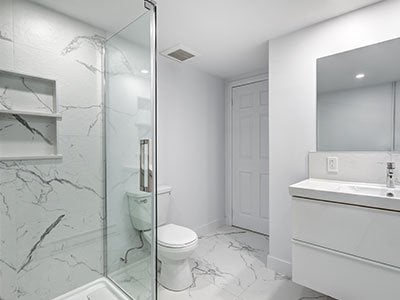 Average Bathroom Remodel*
Includes a new bathtub or shower with tile work, tile floor and/or heated floor, new toilet, vanity, fixtures, and exhaust fan, full paint, and minor layout changes for a larger guest or smaller master bathroom.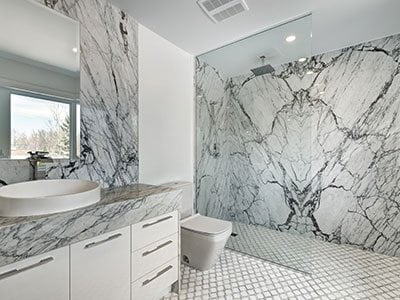 High-End Bathroom Remodel*
Includes new custom bathtub or shower, custom dual vanity, heated and tile flooring, new toilet, fixtures, and exhaust fan, full paint, and major layout changes for a larger master bathroom.
*Prices are averages and may change depending on the size of your bathroom remodel and your choice of materials and finishes. You'll receive an exact quote for your unique home addition and renovation project after the on-site design consultation.
Here's What Homeowners Like You Say
Your comfort and needs are the first priority of Valdek Construction. Take a look at what our previous clients say about us and how they experienced working with our team.
The courteous, reliable, trustworthy and professional team communicated well before and during the project, worked efficiently with respect for my things, did a great job of cleaning up daily and at the end of the project, started and finished when they said they would.
The craftsmanship related to the window casing installation was superior and all the painting was well done. There were no surprises–they delivered what they promised on time and on the budget we discussed ahead of time.
I would definitely hire them again.
We have worked with Valdek Construction for a few years now and they have completed several projects in our home including the renovation of our basement, bedrooms and bathrooms that required new electrical, lights, plumbing, painting, construction of walls, drywall, install of shower, sink, toilet and flooring.
The team of people we've gotten to know are fantastic and professional from start to finish! The estimates provided were accurate, thorough and fair. The work that was done was of high quality.
We had steady and great communication throughout the entire process of each job. Matt and his team are open to feedback, suggestions and questions along the way. The finished product was what we were looking for and more with solid & trusted advice from them.
We will definitely call on them again for any projects in the future!
I had the pleasure of having Valdek Construction take on a renovation that I initially started myself – long story short – Matt and the team saved the day.. well really my prolonged project that was taking a toll on my life.. so I am very grateful for the quality of craftsmanship work that was done to complete my renovation!
Enrich Your Mornings And Evenings In A Customized Bathroom