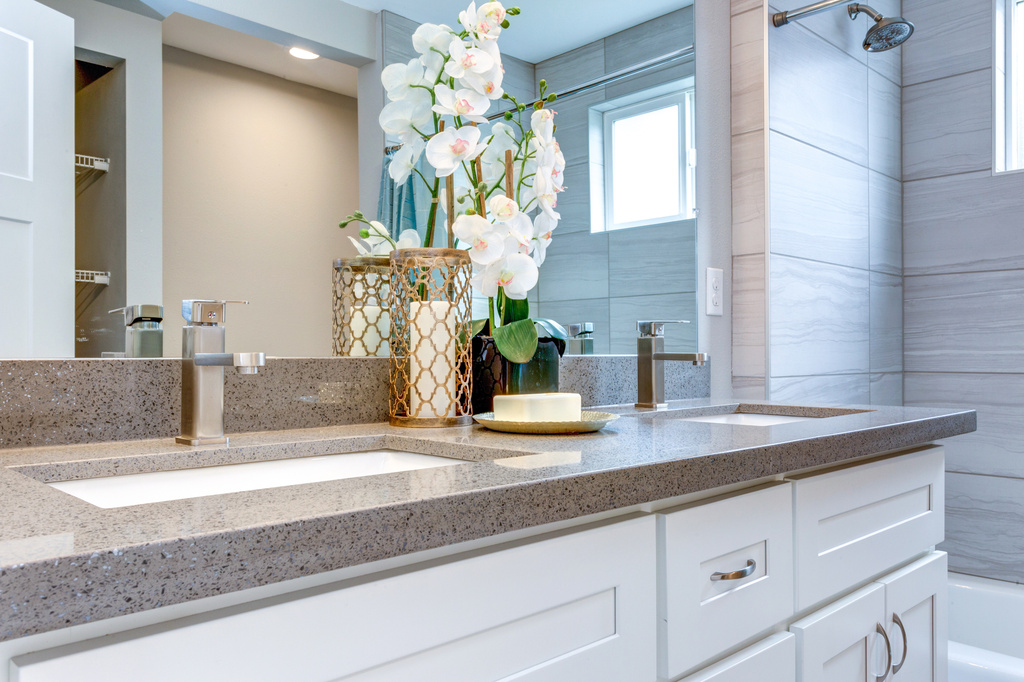 Planning a bathroom redesign can be an exciting process, as it allows you to customize each element of the room. Modern bathroom decor enables homeowners to express their personal design style in multiple ways. So, there are many choices homeowners must make as they envision their new bathroom.
Regardless of the decor style you decide on, the bathroom countertop will be one of the room's centerpieces. Choosing the perfect counter material and colour can bring the entire space together, creating a stunning visual effect that will impress residents and visitors alike. This article will examine the differences between popular countertop materials and list the pros and cons of each.
Why the Material of Vanity Countertops Matters
The material you choose for your bathroom vanity counters is essential for multiple reasons. First, the material will impact the durability of the counter, determining how the renovated bathroom ages as you and your family use it. More robust materials will last longer, saving money on repairs and renovations.
Additionally, choosing a suitable material for your bathroom countertop is essential to the aesthetic design of the space. Different materials mesh better with specific styles, so understanding how each material will impact your bathroom's look can help you plan your project more effectively.
Bathroom Countertop Material Options
If you're planning to remodel your bathroom, there are multiple countertop materials to consider. Depending on your priorities, your ideal material may vary. Each of these materials has distinct advantages and disadvantages, and the costs can vary significantly.
Tile
Commonly seen in bathrooms across North America, tile is a simple yet versatile material for homeowners to use in their bathrooms. While this material lacks the inherent beauty of pricier options, skilled contractors can use tiles to make intricate patterns and designs that bring your bathroom to life.
Pros
One of the most crucial benefits of using tile for your bathroom counter is affordability. This material is highly cost-effective and can help you balance the budget for your remodeling project. Additionally, tile is easy to install, so many homeowners can install their own tile counters if they like.
Cons
While tile is a cost-effective option as a countertop material, there are some downsides to choosing it for your bathroom. First, tile is less durable than materials like stone or quartz, leading to increased restoration costs throughout the life of the counter. Fortunately, when a tile chips or scratches, you can replace a single tile rather than the whole counter.
Additionally, some homeowners find that tile counters fail to create an impressive visual impression. While skillfully installed tile can be beautiful, many tile counters look generic or ordinary. If you want a visually unique bathroom, other material options may be superior to tile.
Solid Surface
Solid surface vanity countertops provide an excellent balance of cost and aesthetic appeal. This material can provide a unique, impressive aesthetic while being more durable than something like tile.
Pros
First, this material is highly resilient and can last a long time, so you'll save money on repair and replacement over the long run. Additionally, this material can provide the same visual effect as natural stone for a significantly lower cost. Solid surface is also malleable enough to shape into whatever a homeowner desires, and it resists mold, mildew, and stains well.
Finally, solid surface countertops are extremely easy to clean. This means your bathroom will retain its stunning and impressive appearance for longer and with less effort.
Cons
While solid surface is an excellent overall material, there are still some downsides. First, these counters can be vulnerable to damage, which can risk your investment in your new bathroom. Additionally, the complexity of the installation process sometimes increases the length and cost of remodeling projects.
Natural Stone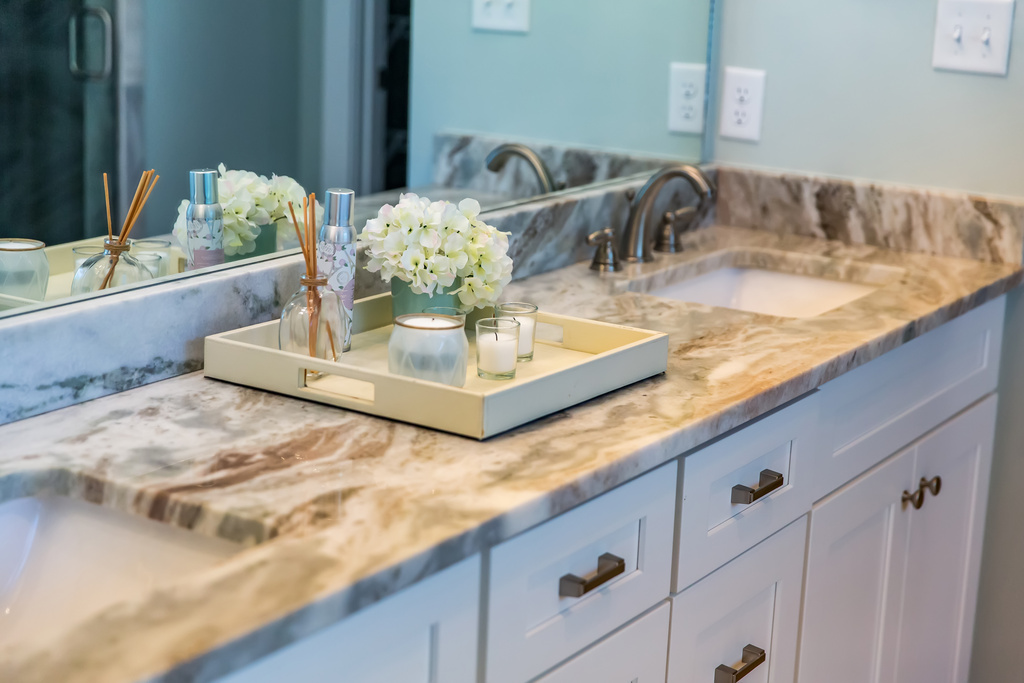 Homeowners seeking a luxurious option for their bathroom should consider natural stone for their counters. Natural stone can include slate, soapstoe, limestone, marble, and granite. While these stones are more expensive compared to some other options, they provide an impressive effect when contractors skillfully install them.
Pros
There are several different natural stone options for homeowners to choose from, but the benefits of each are relatively similar. Generally, these materials are highly durable and, especially when used in an edge-to-edge design, create a seamless look in the room. Granite also resists scratches, and natural stone resists heat and moisture well, making it ideal for bathrooms.
Cons
The primary downside of natural stone as a bathroom countertop material is cost. This material is expensive to install and can also be costly to maintain, as some stones require regular resealing. However, if your budget allows for it, natural stone can be one of the most impressive overall materials.
Quartz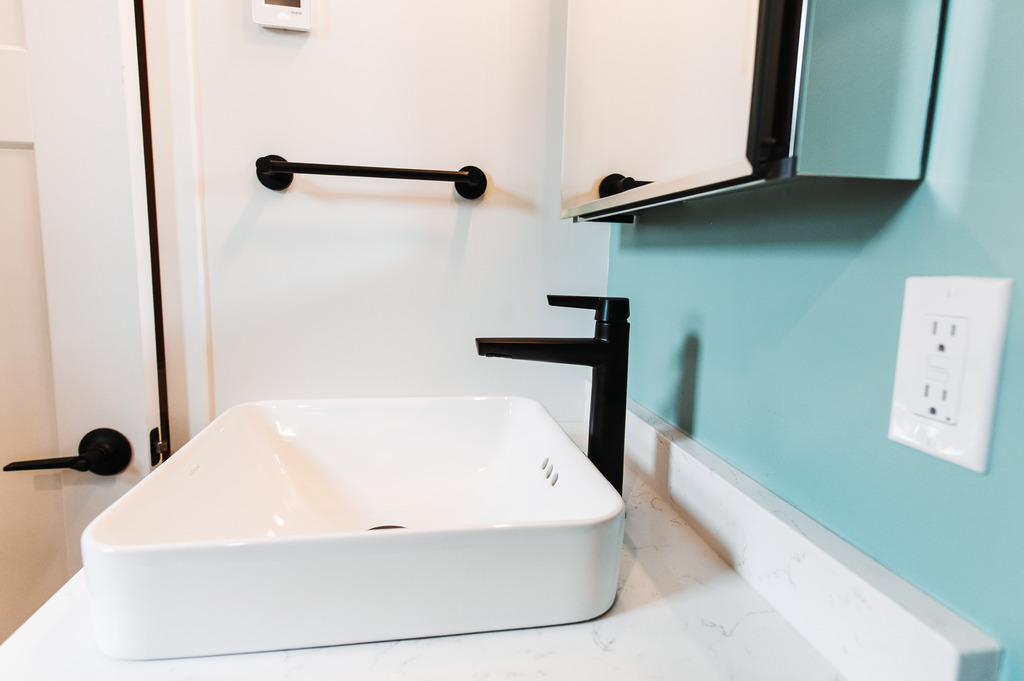 Possibly the best overall countertop material, quartz pairs impressive durability and style with far lower maintenance than natural stone. Despite its high cost, quartz is an excellent option for many homeowners.
Pros
First, this material creates a visual effect that matches natural granite or marble while requiring far less maintenance than those materials. Additionally, quartz is highly durable, so installing it can reduce maintenance costs and improve home values. It is also resistant to mold, scratching, and stains. Quartz is also easy to clean, making for countertops that keep its' shine longer.
Cons
Ultimately, the only downside of quartz is the cost involved. Although these counters are easy to clean and maintain, their price is similar to that of natural stone options, which may be out of budget range for some homeowners.
Get Expert Bathroom Remodeling Help in Winnipeg
Finding a trustworthy contracting company is essential to your success if you're planning a bathroom remodeling project. These projects can be lengthy and expensive, so choosing the right professional protects your investment in your new space. For residents of Winnipeg, there is no better option than Valdek Construction.
As an experienced local remodeling company, we have helped hundreds of residents design beautiful bathroom cabinets and counters. Now that you've read about the available options for the countertop material in your newly redesigned bathroom, it's time to begin making your dream bathroom a reality. Visit our contact us page to discuss your bathroom countertop remodeling project and schedule your service today!