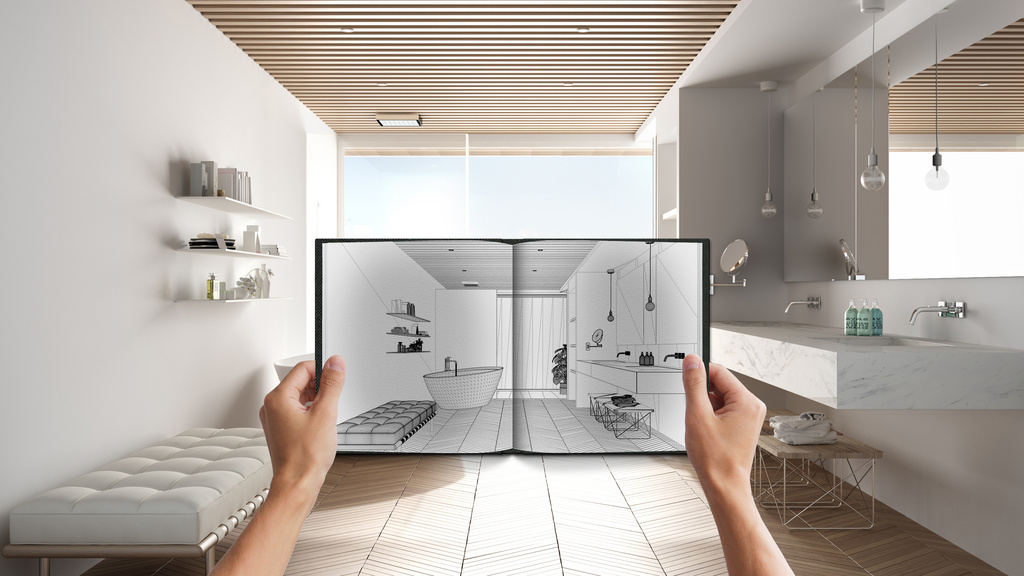 Bathroom designers not only have an eye for design but also help craft gorgeous, showroom-worthy bathroom spaces. They can put together all the elements of a room, helping you determine where to place a soaking tub or choose the perfect light fixture.
This is why it's important to look at some ideas for bathroom colors so you can find the right one for your home. Here are some of their most loved and recommended designs and color schemes to inspire you. 
Creative Bathroom Colour Ideas
All bathroom designers have ideas of what colors look best in the space, but you may not know where to start. Luckily, the possibilities are limitless. There are gorgeous color schemes for any person's tastes, needs, and aesthetic preferences. 
While there are countless combinations and style inspirations for bathroom remodels, we have compiled thirteen of the best, approved by many bathroom designers.
1. Bold and Bright Show-Stopping Colour
One popular yet bold choice is to pick an eye-catching pop of color to focus the bathroom around. It could be a bright blue, red, orange, or green, to name a few ideas. You could then base the rest of your design choices on colors that perfectly pair with them. 
2. Pretty or Playful Patterns
Incorporating patterns with wallpapers is a fun and designer-approved way of adding happiness and cheer to the bathroom. You must protect it from damage and moisture but can opt to put wallpaper only on a feature or accent wall. There are many patterns to choose from in breathtaking colors and designs.
3. Neutrals and Nudes
Neutral colors and design inspiration may be a great decision to keep your space simple and elegant. You can't go wrong with this classic approach, which is popular for a reason. You can find balance in your bathroom by painting it with half a light neutral and half a dark, or curtains with a warm feel.
4. Rich Jewel-Toned Colours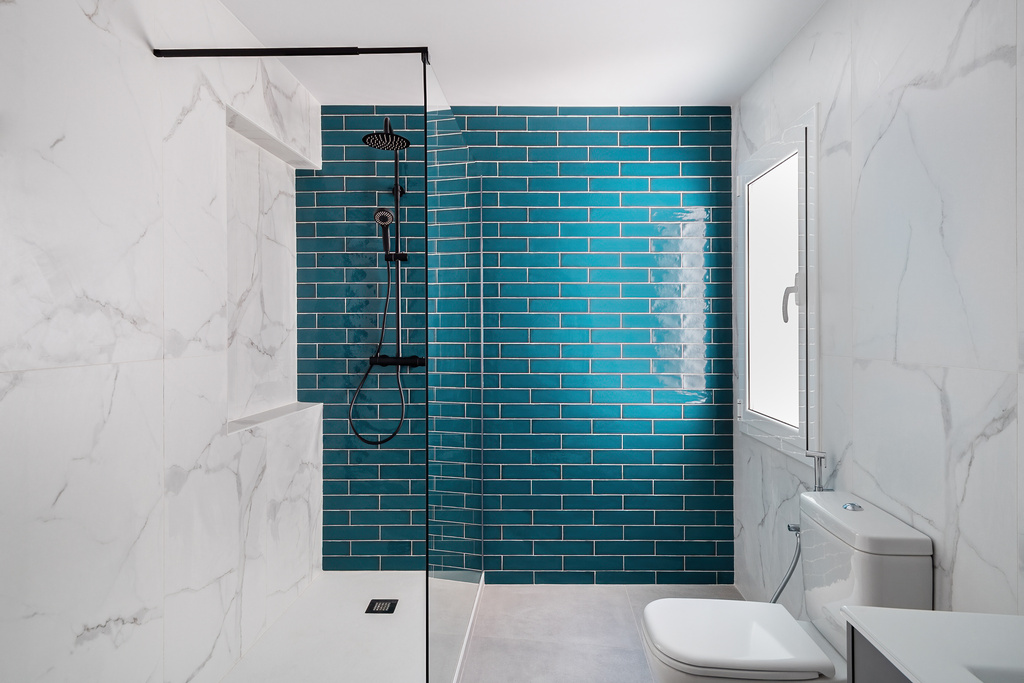 Some bathroom designers make one piece in the room have a standout color, while the rest of the space follows a general color scheme of its own. You can use the rich jewel tones that so many love to create a look like this. Colour ideas include blue, green, and purple, and you can even draw them in through decorations and artwork for a less committed approach.
5. Gorgeous Shades of Green
Shades of green are currently trendy in fashion in many areas of the home, including bathrooms. Forest green, Kelly green, emerald green, and more can make your bathroom a tropical or forest-like retreat. You may feel more relaxed and comfortable in a space filled with lush shades of green.
6. Classy and Classic Dark Shades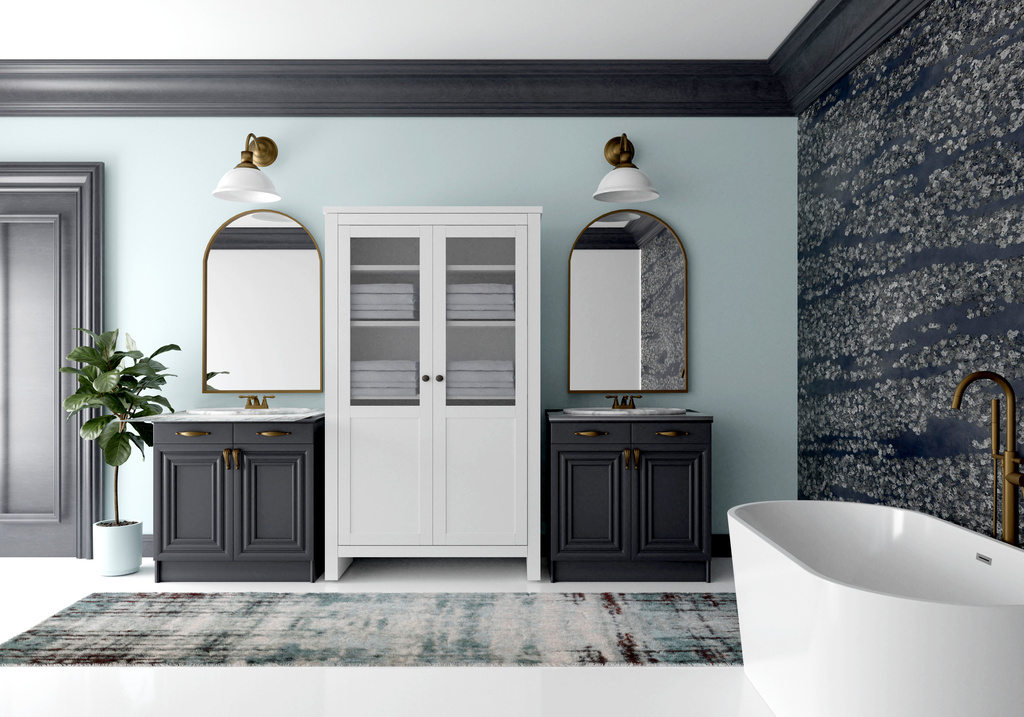 Believe it or not, charcoal gray and black are becoming more common in bathrooms, despite the belief that dark colors are ill-fitting for small spaces. Pairing one of these colors with white adds elegance and sophistication to this increasingly popular bathroom design. 
Dark colors can especially pop if you use light colors to make them stand out, like pairing white and stunning indigo. You can utilize matte black fixtures, which look like pieces of art, or even beautiful copper or silver pieces. Be sure to avoid colors that clash or take away from each other.
7. Down-to-Earth Hues
Bathroom designers love any earth or nature-inspired colors to add warmth and beauty to a bathroom. You can bring the outdoor feels inside by adding pieces resembling wood and trees, along with fake plants that fit this cozy theme. You can utilize stone or tiles for a completed look.
8. Soft and Simple Sky Blues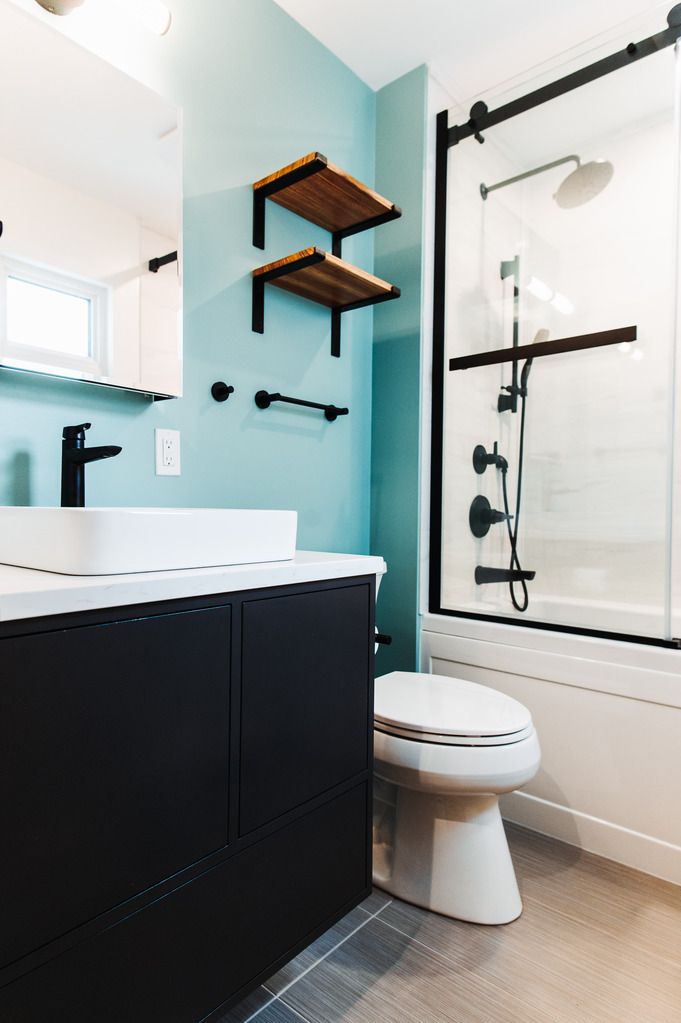 When planning a bathroom remodel, choosing a colour might seem the hardest. However, you can make it simple by selecting one of the most popular and classic bathroom colors: sky blue. Blue is a color homeowners often associate with this space and is always a great choice.
9. Creams, Whites, and Berry Reds
This combination of colors is not common but is truly beautiful and unique. The creams and whites add comfort and make your bathroom look big and bright. The berry hues add the perfect pop of color.
This color scheme works beautifully around the holidays, making it easy to adapt its décor for the season.
10. Focal and Fun Florals
Allow florals to take center stage by choosing a gorgeous or fun pattern. It can also help you plan what bathroom features suit the main piece. You can base your florals around one color, a specific style, or a type of flower. Regardless, you will have a designer-approved bathroom and a beautiful area.
11. Statement Colour: Kelly Green
A theme to consider for your bathroom is Kelly green, white or cream, and touches of gold. It makes a statement and looks phenomenal.
12. Corals, Peaches, and Pale Pinks
Pink in many shades has always been popular, though not everyone may consider it for their bathroom. Colors like coral, peach, or pastel pink are fantastic ways to add a feminine or soft touch to the bathroom. You can play off them with whites, creams, or yellows or utilize the color wheel. 
13. Spots of Sunshine
Adding yellows of any shade to your master bathroom is a sure way to bring joy and warmth. Choosing this color scheme will make your bathroom feel like a retreat and place of happiness.
Your Bathroom Designer in Winnipeg, MB – Valdek Construction
You need an experienced and skilled bathroom designer to transform your old space into something stunning. Valdek Construction serves the community of Winnipeg, MB, along with all other areas within a 100 km radius. Our team of skilled bathroom designers and contractors will craft the luxurious bathroom of your dreams and work with you every step of the way.
We are eager to start on your beautiful bathroom as much as you are to see it! Call us today at (204) 981-1667 or fill out our online form regarding the project you wish to plan, and we will get back to you with an estimate. Contact us now to make your remodeling project and plans a reality!