At this very moment of writing, the snowfall that has descended upon the prairies is here to stay, signaling the inevitable- Winter is here! Outdoor projects have drawn to a close and the ground has now frozen pushing any plans for building additions until next Spring. And this year, the cloud of Co-Vid 19 hangs over us all adding a layer of heaviness to our already arduous and long Manitoba winters. For most of us, winters in Manitoba means hunkering down and enjoying the comforts of home. And while Co-Vid-19 weighs heavily on our shoulders, all we can do is allow ourselves to slow-down and enjoy the comfort of our homes…
For some of us, spending more time at home is bittersweet, shedding a spotlight on all the work that needs to be done. Instead of chilling out with a book, we plan projects to keep our brains occupied. If you are cringing at the thought of being cooped up in your home for 5 months, consider adding more space to ease those claustrophobic feelings. The perfect place to add space without building a whole new addition is the basement. Basement remodels also happen to add to the re-sale value of a home! So why not plan your perfect exercise room or dream studio? If you have kids, what you may need is another place to funnel your little ones' energy, and regain a place of your own…you might just get a book or two read this winter after all…
If you've stayed with us this far, we're betting you are seriously considering remodeling your basement. To help you through your planning process, we have compiled '4 Steps To Building Your Dream Basement', which includes lots of helpful pointers to get you on the path toward expansiveness…
4 STEPS TO PLANNING YOUR DREAM BASEMENT…
However you want to express your desires, whether it is a quick bullet list, idea bubbles or rough sketches, just empty it all out on paper and get it out of your head. Then you will be able to hone in on what is realistic. You will need to look critically at the space you actually have to work with and prioritize your spatial desires from most important to least important. If you find it a challenge to visualize your ideal space within the space you actually have, consider bringing in a designer or contractor to assist you. Retrofitting basement spaces can be particularly challenging especially in turn of the century homes where headroom space is limited. Bringing in someone with experience in basement remodels can help you refine your ideas and make realistic choices. A designer can also bring up fresh ideas that you might not have otherwise thought of on your own or, help you to do more with less.
Once you've made up your mind on how you're going to use your basement space, you'll want to start gathering ideas for how you want it to look. Take your time to think about what reflects your lifestyle and sense of style, keeping in mind that your budget will play a key factor in the final look. There are lots of great sites featuring images of finished basements that can offer inspiration. When visiting friends' homes, check out their basements to see if they have design elements you like. We all have cameras built into our phones so its easy to snap photos of design elements that inspire us when we are out in the world. Gather up all your ideas in one place like a physical or virtual idea board. This will help you to narrow down and ultimately define your final look. Once you have a good idea of the overall look, consider hiring a designer to assist you in bringing the look to life within your budget.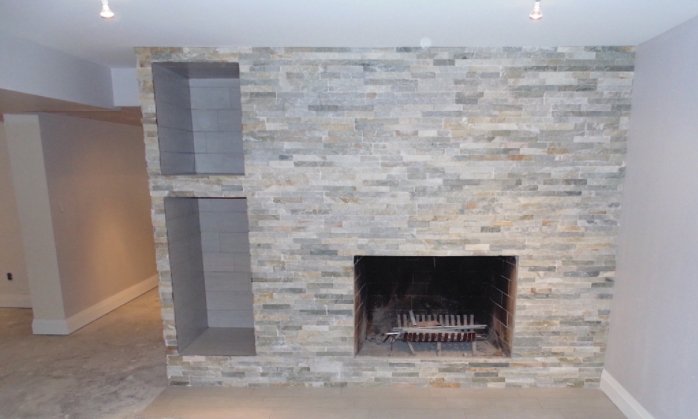 A modernized fireplace makes movie night extra cozy.
3. CHOOSE THE RIGHT CONTRACTOR FOR YOU:
Your surest bet is hiring a contractor with experience in basement re-models. Basements provide their own set of challenges depending on the age and footprint of your home. An experienced contractor will be able to foresee any potential challenges and will account for them in their design. Things like low ceilings, floor drains, foundation issues, escape routes and working around pipelines can require a lot of creative thinking and problem solving. Hiring the right contractor for the job will make all the difference. There are a lot of contractors in the industry who are eager to get your business. Interview at least three different contractors.
Before you engage a potential bidder, make a list of questions to ask them. It should follow suit that you do your own research before settling on a contractor. Check online for positive reviews and star ratings. A good company should have at least a few positive reviews under their belt. Checking court registries and public records before the interview puts you in the driver's seat and positions you to ask pointed questions. If the company is re-branding themselves and has changed their company name and/or appears to be new to the industry, they may be hiding a checkered track record. A quick search on court registries can help you determine who is being transparent and who has something to hide. Here are some questions to ask contractors you are considering for your build:
Do they back up their work with a warranty?

Can they provide valid references (if they can't and have no photographic evidence of completed projects, they may simply be new to the industry or they may be hiding something).

Can they provide you with any credentials (i.e. certificates of achievement or educational diplomas)?

Are they timely in their responses and demonstrate accountability in their communication with you?

Large gaps in communication, vague responses and ghosting are symptomatic of poor management and a lack of organization, or simply that they are too busy with other jobs to give you the time you deserve. If a contractor begins the relationship in this fashion, it likely signals a pattern of behaviour so trust your instincts. If something doesn't feel right, then it likely isn't. If their actions don't match their claims, and they make self-inflated promises, don't settle! An honest and transparent contractor will be realistic in their claims and forthright about their experience.
4. APPLY FOR A BUILDING PERMIT:
"Is a building permit necessary?" is a common question asked early on in the design process and is often not met with a clear answer. In short, when it comes to basement re-model, the common answer should be and is, YES. Because in most cases the purpose for re-modeling is to create a habitable space, there are mandatory building codes put in place to ensure the space will be built with the safety of its occupants in mind. If you go ahead and build without a permit, you will likely face fines in your future. And while the permit process is often met with a mix of reluctance and dread, it should be instead viewed as a vital part of the design process that will ensure the final design is done right, before starting the build. For homeowners, the permit process can be mystifying and stress inducing if you have never gone through it before (in most cases contractors will apply for a permit on the home owner's behalf). We'll take some time now to demystify the process:
First, if you think of the permit officer as an ally in the design process, you have already put yourself in a good position to win a permit in a timely fashion. The permit officer's job is to assist you or your designer in bringing your dream design up to building code standards and ultimately, they help you to improve upon your design. This means that there is a back and forth dialog between the contractor or designer and the permit officer throughout the permit evaluation process. It also means that when a layout is submitted to the permit office, the design phase is not necessarily over. The length of the permit evaluation process depends on a handful of factors: The complexity of the design, whether the design is for commercial or residential occupation, the designer's first-hand knowledge of building code and also their project load, and the volume of open applications that the permit officer is assigned to. From the homeowner's perspective, it is understandable to feel like you are not in control of the process, because let's face it, once your design is submitted for application, your dream (and life!) is put in the hands of complete strangers. This is where open communication and the accountability of the contractor is key.
A good contractor will keep you informed during the permit process and be transparent every step of the way. Remember that the relationship goes both ways and what you can do to help speed up the process is to ensure that all design decisions are finalized and approved before submitting the design for permitting. Homeowners can also help by giving their contractors the time, patience and trust to ensure a smooth process.
Through a combined understanding of the permit process and planning for the inevitability of delays occurring within the process, you will save yourself a lot of frustration. What you should expect from your contractor is that they are following up regularly with the permit officer and making all the necessary adjustments in a timely manner to ensure forward momentum. In the meantime, you can sit back and enjoy the calm before the storm, because once that permit is in the contractor's hand, you can bet they are ready to pull the trigger on the build and you will be in the middle of a construction zone!